William M. Collins Company
is a full service mechanical contractor providing fire protection, plumbing and process piping, and HVAC systems to commercial, industrial, and municipal markets.
Our goal is to provide customer service with reliability and integrity. Servicing our clients with efficiency and professionalism is our top priority and key to the success of our projects. We pride ourselves on our quality and workmanship. We do the job right the first time—which is a must, because we are dealing with life safety. There can be no mistakes. No second chances.
We service what we sell. We have never failed to complete a job on time and within budget. We can offer a full mechanical package to our clients. A one stop shop as it were. It helps eliminate coordination issues. Which in turn shortens coordination time..
WMCC continues to be a family owned and operated business, with a focus on customer service and a commitment to the clients and communities for whom we serve.

Heading William M. Collins since 1984, the second-generation president has expanded and diversified the company. Under Ed's leadership, it is now one of New England's largest mechanical contractors.
Plumbing is in Ed Strickland's blood. He has worked in the trade virtually his entire life. His father put him to work at a young age cleaning fittings, starting up the furnace pot, and other tasks. Eventually he worked alongside his dad doing things such as installing piping and cleaning oil burners.
When his father, William Strickland, bought the Collins Company in 1964, Ed continued to help his dad. He worked summers at the shop from the time he was 14 through college. He graduated from Blue Hills Regional Trade School with a certificate in mechanical drafting and an associate's degree in graphic design from Blue Hills Technical Institute in Canton, and then went on to earned a second degree in fine arts from UMass Dartmouth.
Ed joined the company full time in 1974 and became its president in 1984. Under his watch, Collins has tackled high-profile jobs including the Big Dig, the Walnut Hill Water Treatment Plant, and Deer Island. Strickland has also diversified into commercial markets and fire protection and grown the company. Today, it is among New England's largest mechanical contractors.

Mark Coulter
V.P., Fire Protection Division
---
Mark has dedicated his career to fire protection contracting for over 40 years. He is highly regarded in the industry for his ability to solve even the most difficult challenges that projects have to offer.
Mark began his career as a sprinklerfitter in the field. He then became the engineering supervisor at MJ Daly Company and was quickly promoted to general manager. Mark joined WMCC in 2003 and serves as Executive Vice President in charge of the Fire Protection division. He holds a Massachusetts Journeyman Sprinkler Fitters License and Sprinkler Contractor License.
Mark's is an excellent team player. He takes an active role in working with our project coordinators and designers to ensure piping arrangements and prefabrications suite project requirements. His ability to schedule and work with our staff and clients helps keep projects on track and within budget.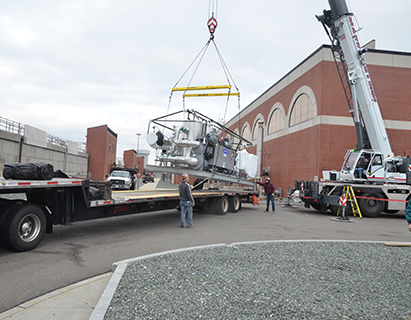 Our History
While it is known today for tackling major projects, the Collins company has humble roots that stretch far back. Established in 1927, William M. Collins was originally a "jobbing plumbing shop." That is, rather than working on new construction, the Boston shop handled maintenance, service, and repair jobs for both residential and commercial customers. Some of its early accounts included the Filene's and R. H. Stearn stores in Boston's Downtown Crossing.
In the 1940s, John McMasters purchased the shop from the Collins family, but retained the William M. Collins name. In 1964, William Strickland, Ed's father, bought the company. During the 1960s, the shop began expanding and evolving into new specialties, such as process piping and water and wastewater treatment plants under William's direction. From those early projects, the Collins company developed a reputation for its water treatment work and its handling of big pipe, which continues to this day.